The Travel Trailer
The RV travel trailer is towed with a ball mount and a hitch receiver that's located below the rear bumper of the towing vehicle. In most cases a weight distributing hitchsystem is also employed to reduce the effects of the trailer's hitch weight on the suspension of the towing vehicle. Various sway control devices are also often used to enhance towing characteristics. Available in the widest variety of sizes, floor plans and price range, a travel trailer can be found to fit just about any size family, tow vehicle and type of camping. And you don't need a pickup truck to pull one - a properly equipped van or SUV can make a great towing platform as well. Generally available in sizes from 16 to 32 feet, many travel trailers also have motorized slide-out rooms to expand the floor space while in use. Travel trailers were the original towable RV, and Curtis Trailers has an extensive selection of new and used units of this type to choose from.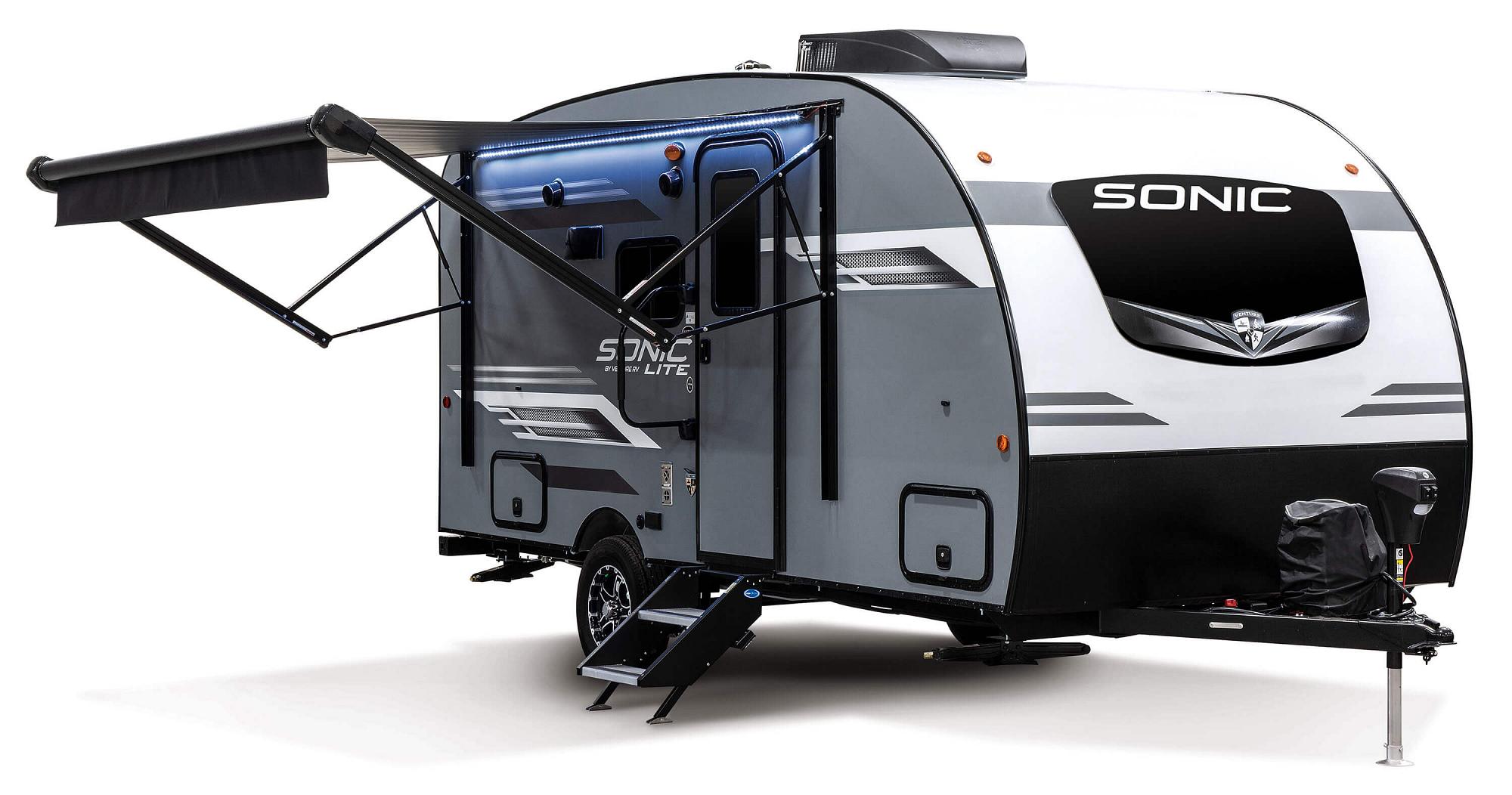 The Light Weight Trailer
Never before has there been such a wide variety of camping trailers that are specifically built as a light weight or ultralight unit. Many different manufacturers have worked to produce towable RVs that are a good fit for today's more fuel efficient vehicles without sacrificing quality, features and room for the family. Utilizing advanced construction techniques, special axle and suspension systems and more aerodynamic profiles, the light weight trailer models available today sacrifice little while offering more space than previously possible within a given weight range. Light weight units are most prevalent in the travel trailer design, and one noticeable variation of this type of trailer is known as a hybrid. The hybrid style trailer retains the rigid wall and ceiling structure and also employs folding tent-sided bunks on the front and rear (and sometimes the side) for added sleeping space, combining the best features of both a tent trailer and a lightweight model. Some ultra light models are also available in a fifth wheel design. Whether you're limited in towing weight or simply want the benefits of towing less overall weight, an ultra light trailer may be perfect for you and your family.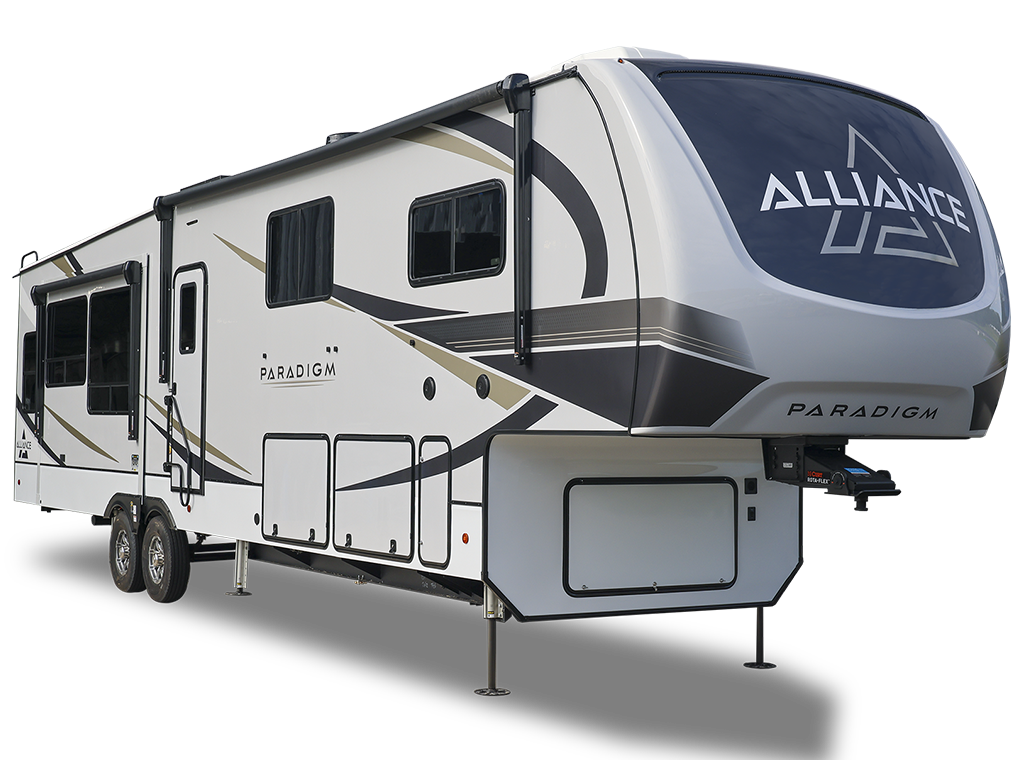 The Fifth Wheel Trailer
A fifth wheel trailer is designed to be coupled with a special fifth wheel hitch that's attached in the bed of a pickup truck, usually centered above the truck's axle. Doing so allows the pickup to safely handle the higher hitch weights associated with heavier units having two, three, even four slide-out rooms. This extra hitch weight provides improved stability, especially with the larger units preferred by full-time RVers and extended stay destination campers. The fifth wheel design also allows for a tighter turning radius in most cases. Easily recognized by the step-up design in the front hitch area, fifth wheel trailers are currently produced in sizes ranging generally from 24 to 40 feet. Most currently manufactured units have at least one slide-out room, and the larger sizes often have three or more - offering up to 400 square feet of interior space. Large basement storage areas are another feature commonly found with this type of unit. While many fifth wheel models are designed with extended stay RVers in mind, there are also many family friendly floor plans available as well including models with a second bedroom and sometimes even a second bath. A long bed pickup truck is not required - current trailer and hitch manufacturing technology will also allow a fifth wheel trailer to be towed with most of the short bed pickup models that are popular today. There are even some special trucks made specifically for hauling large fifth wheels.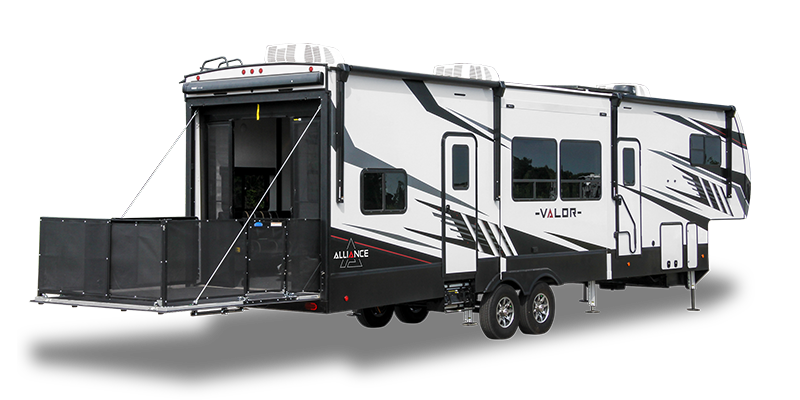 The Toy Haulers
Want to take it all with you? Toy hauler trailers feature a drive-on ramp door in the rear or the side that opens to the inside of the trailer, where living space can be easily converted to cargo space for your favorite toys. Sofas fold up against the wall, beds lift up to the ceiling, chairs move and the carpet rolls up to reveal tie down anchors in the floor. Some models even have slide-out rooms, and dedicated garage space that's separated from the living area. Toy hauler models are available in just about any style of RV trailer - travel trailer models, fifth wheels, light weights, hybrids - there are even tent trailer models with a front deck for carrying your toys. Bringing everything to the dunes or the trails has never been easier - they're usually equipped with large water tanks for extended stays, often come with a large on-board generator and even a fuel filling station to gas up your engines. Most models will comfortably sleep 6-8 people, so you can bring your friends along too!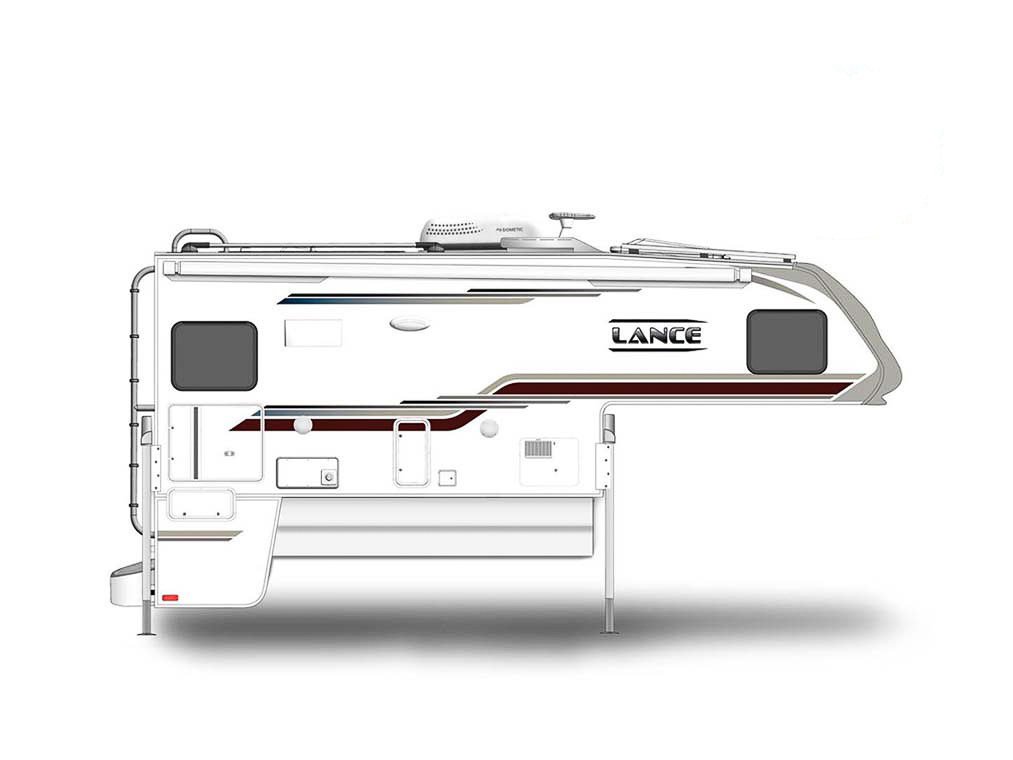 The Truck Camper
The pickup camper is one of the most versatile types of RV available - it transforms your truck into a rugged, go-anywhere motor home that can also haul your boat, horse, motorcycle or cargo trailer. Most models are fully self-contained, so you won't be limited to crowded camp grounds - those out of the way places are no problem for a truck and camper. Modern conveniences such as push-button electric loading jacks, generators and even slide-out rooms are common on these units today, and there are models made for nearly every class of pickup truck including short bed (6.5 ft) models. Because it's carried completely in the bed of the truck, a camper is also one of the easiest RVs to drive, turn around and back up. It's as comfortable in town as it is in the woods, and can be unloaded at the camp site to free up your pickup for further exploring. If you own a truck, you're already half way to a great RV!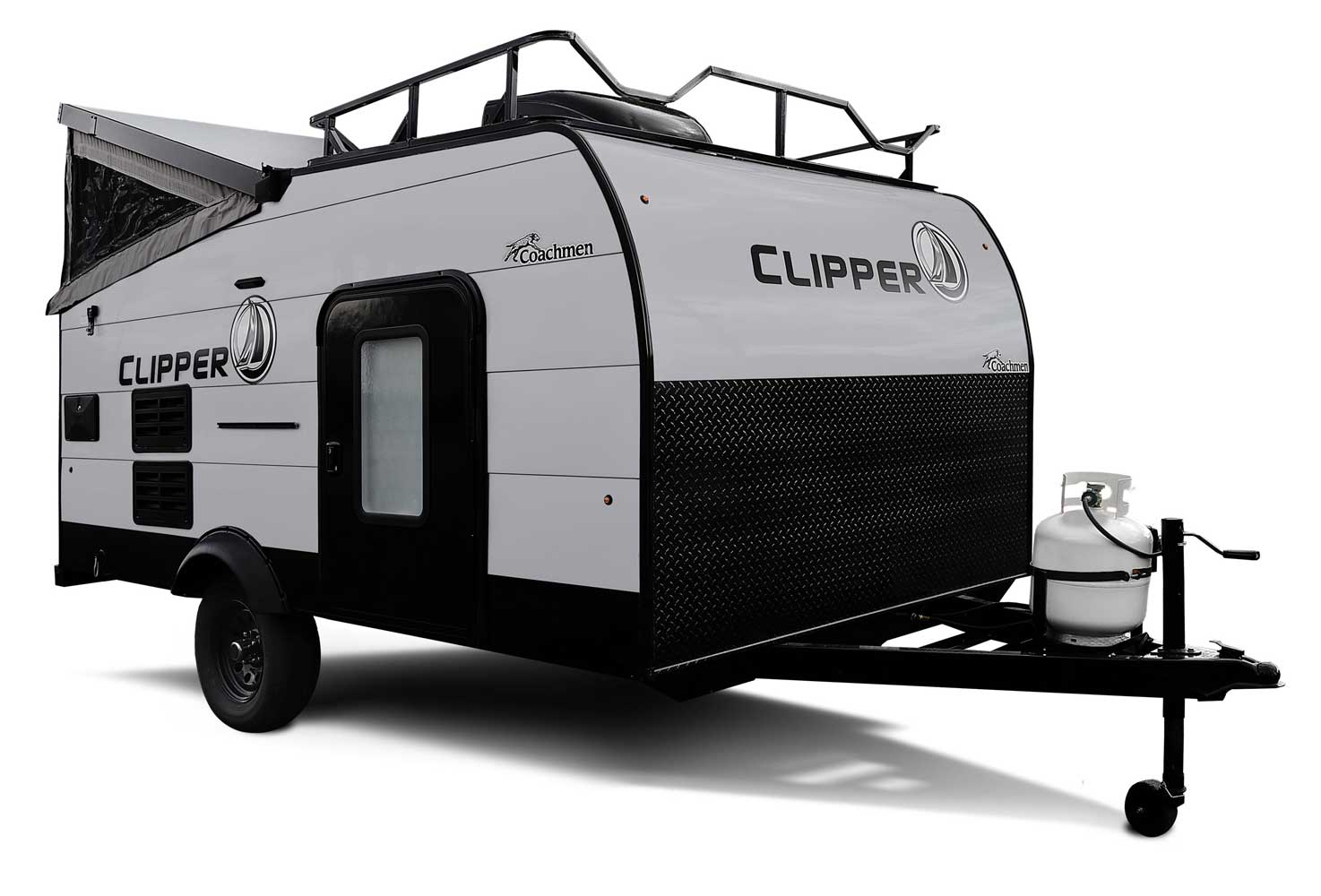 The Folding Trailer
The folding tent trailer is an expandable tent that is built onto a trailer base, with a hard roof that raises and lowers. They are light weight, compact and easy to tow - and todays folding trailer typically comes with interior conveniences like a heater, refrigerator, stove and sink. Additional features you'll often find include an awning and outdoor cook stove, and models are available with hot water, an inside bathroom and shower stall, even slide-out dinettes for more floor space. Few RVs have the wide open and airy feeling of a folding tent trailer - it's truly a great way for a family to experience the great outdoors in comfort -and if your camping trips often include other passions, there are roof rack systems available for transporting bicycles, canoes or a storage pod for extra gear.