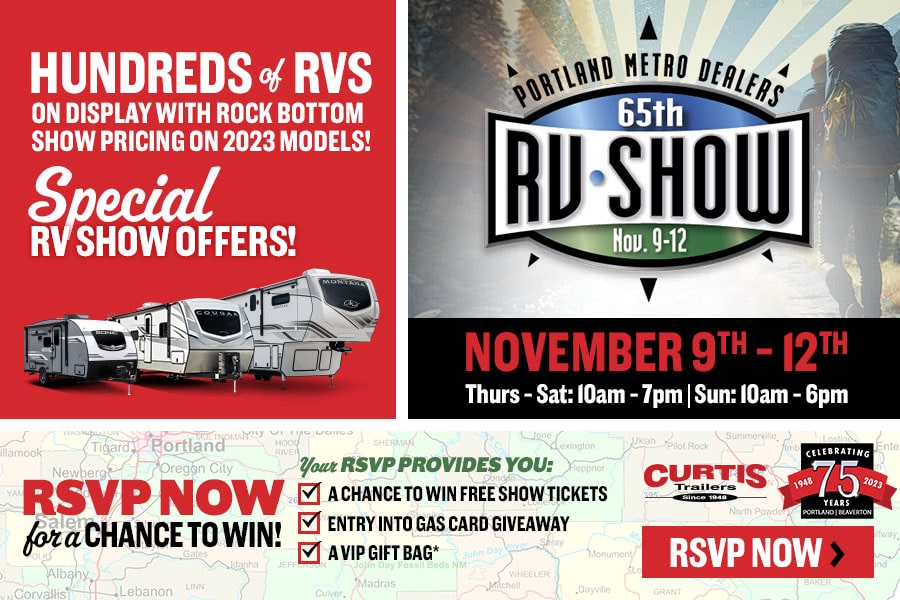 Portland Metro Dealers RV Show!
Your RSVP reserves you a VIP Gift Bag (while supplies last)🎁
and:
A chance to win FREE Show Tickets🎟️

Entry to our Show Giveaway ($250 Gas Card)⛽

Over 100+ units on display with special show pricing!💰
Show Details
Show Dates and Hours:
November 9th - November 12th
Thursday: 10:00 AM – 7:00 PM
Friday: 10:00 AM – 7:00 PM
Saturday: 10:00 AM – 7:00 PM
Sunday 10:00 AM – 6:00 PM
Show Address:
Portland Expo Center
2060 N. Marine Drive
Portland, OR 97217
Find Curtis Trailers in Hall D!
Admission:
General Admission (age 16-59): $15
Seniors (age 60 or over): $13
Children Younger than 16 (with adult): FREE!


Parking/Directions
Parking is $12 per space, per entry.
Featuring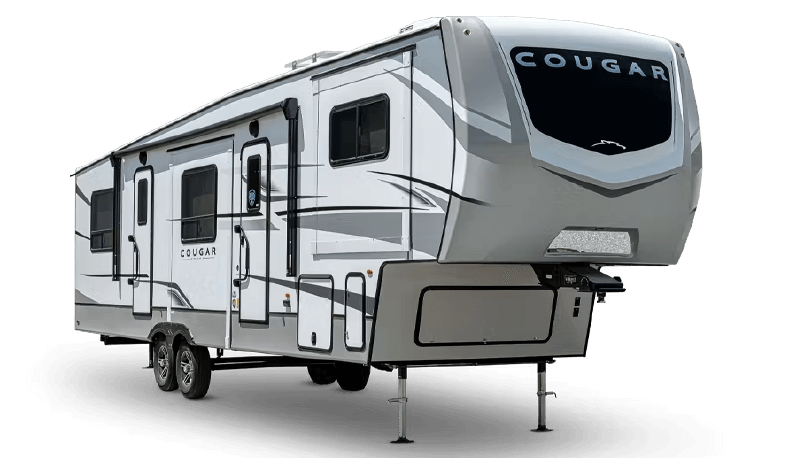 OVER 100+ UNITS ON DISPLAY!
– PLUS DON'T MISS –
Special Show Financing Incentives
Manufacturer Reps On-Site
BEST Savings of the Year!
View Inventory
What RV Are You Looking For?
FEATURED RVS
MSRP: $67,515
Save: $7,516
Sale Price: $59,999

MSRP: $32,155
Save: $7,156
Sale Price: $24,999

MSRP: $31,284
Save: $7,285
Sale Price: $23,999

MSRP: $24,223
Save: $5,224
Sale Price: $18,999

MSRP: $33,360
Save: $8,361
Sale Price: $24,999

MSRP: $41,079
Save: $11,079
Sale Price: $29,999

MSRP: $43,207
Save: $11,208
Sale Price: $31,999

Equipped with (2) Lithium Batteries & Solar Flex 400i

MSRP: $146,690
Save: $48,191
Sale Price: $98,499

MSRP: $92,537
Save: $28,038
Sale Price: $64,499

Midnight Edition

MSRP: $109,400
Save: $29,901
Sale Price: $79,499

MSRP: $56,884
Save: $14,885
Sale Price: $41,999
Previous Inventory Unit
Next Inventory Unit